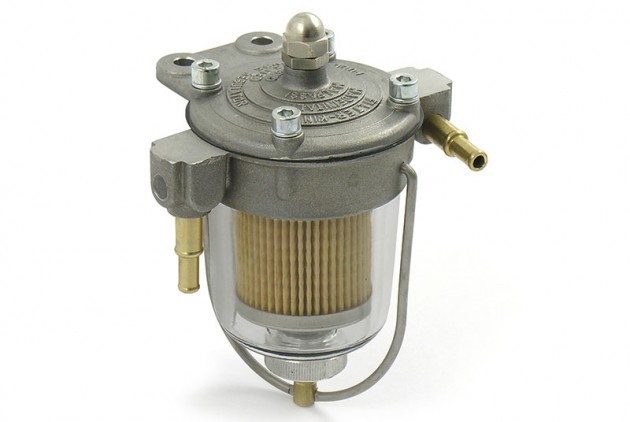 Product Overview
Pros:
Excellent quality
Easy to use
Great price
Product:
Fuel filter and pressure regulator
Manufacturer:
Machine 7
This high quality, glass bowl fuel filter not only filters all the rubbish out of your petrol, it can also regulate the fuel pressure to your carburettor(s). The fully adjustable regulator is made by Malpassi and, according to Machine7, it can be used with an original-style mechanical fuel pump and single carburettor, or an aftermarket electric pump and twin carbs. Perfect for those trying to fine tune engine performance in both street and race applications.
The glass bowl is totally transparent to allow you to keep a close eye on any rust residue or any other sediment contaminants that may have found their way into your fuel, and stop them entering your Carb and engine. You can easily unscrew the base screw and remove any residue collected in the glass bowl, simply and easily within minutes. The bowl also acts as a trap for any water which has permeated from E5 and E10 fuel.
The removable filter can be cleaned and replaced as required (Machine7 hold replacements in stock), while inlet and outlet pipes are stepped to accept both 5.6mm and 8mm fuel hoses. The fuel pressure can be regulated between 1 and 4.5psi and comes preset at 3.0psi.
Compatible with modern unleaded fuels, with a high ethanol content. Includes fitting instructions, mounting bracket and screws.